---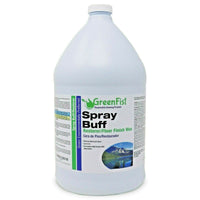 Sale
RESTORES WET LOOK GLOSS - Using Spray Buff regularly ensures you for brilliant shiny floors years to come. SPOTLESS SUPER FLOOR WAX - Cleans, shines, removes marks, scratches, and dirt instantly. SAFE TO USE - Safe to use on commercial and residential floors.
Advanced formula is designed to give floors the most extended durability with its high-quality mixture of polymers, surfactants, and solvents. For the best results, Spray Buff is recommended to be used with a highspeed buff machine. However, it also can be used with hand. Not Tested On Animals ENVIRONMENTALLY RESPONSIBLE INGREDIENTS
-LOW V.O.C GreenFist Spray Buff is a zinc-free high molecular acrylic polymer formulation designed to clean and restore the "wet look" gloss to existing floor finish. Its excellent polishing and restoring ability removes surface marks, leaving floors conditioned, dry and spotless further prolonging the life of the finish. This highly concentrated, economical product can be diluted for application as both a spray buff and high speed restorer.
Kosher Certified Product