---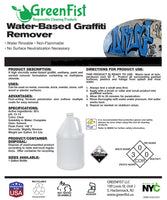 Sale
A high viscosity, water-based graffiti, urethane, paint and varnish remover formulation containing no harmful 

methylene chloride.
Graffiti Remover can be used on metal, concrete, brick, marble, stone, soft woods and plaster.
This fast acting formula penetrates and softens multiple coats for easy removal.
Clear Liquid, Solvent Odor.
DIRECTIONS FOR PRODUCT USE: THIS PRODUCT IS READY TO USE.
1. Always test a small area first.
2. Apply with a brush or roller and scrub product into graffitied surface.
3. Allow 20 to 25 minutes for penetration.
4. Rinse thoroughly with water under pressure. Hot water works best.
5. Repeat as needed on stubborn areas.
Works best at temperatures over 50˚ F. Protect all surrounding painted surfaces, plastics and foliage from splash and rinse water.